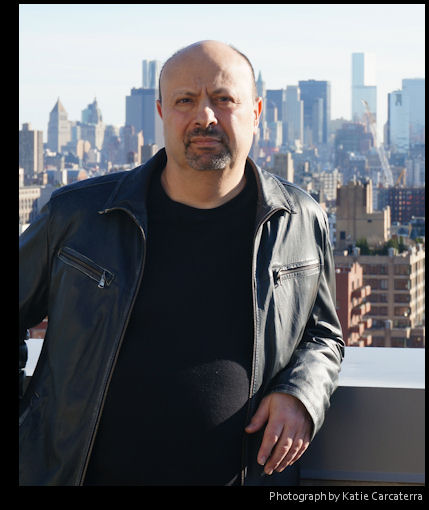 Number one New York Times bestselling author Lorenzo Carcaterra's highly successful career spans more than thirty years of writing for the diverse fields of fiction, non-fiction, television, and film.

Born and raised in New York's Hell's Kitchen neighborhood, Carcaterra landed his first job in the newspaper business as a copy boy for The New York Daily News in 1976. He worked his way up to entertainment reporter before leaving the paper in 1982, heading for the green pastures of then-Time Inc. and TV-Cable Week, as senior writer. Nine months later, the magazine folded, leaving him unemployed. A four-month stint at People Magazine was followed by an odyssey of writing for a string of start-up publications - Picture Week, Entertainment Tonight Magazine, Special Reports Magazine - and freelancing for dozens of others - The New York Times Sunday Magazine, Newsday Sunday Magazine, Family Circle, Ladies Home Journal, and Twilight Zone Magazine, among them.

In 1988, Carcaterra turned to television as a Creative Consultant for the syndicated weekly series, "Cop Talk: Behind the Shield," produced by Grosso-Jacobson Productions. That led to a job as Managing Editor for the CBS weekly series "Top Cops," also with Grosso-Jacobson Productions. Running for four seasons, from 1990-94, the show is still in syndication today worldwide. In addition, he worked on scores of other pilots, none of which made it to air. It was while at Grosso-Jacobson Productions, that Carcaterra wrote and published his first two books - A Safe Place and Sleepers.

First published in hardcover in 1993, "A Safe Place: The True Story of a Father, a Son, a Murder," attracted widespread critical acclaim, with Newsweek calling it, "Unforgettable - a remarkable book." Currently in its tenth printing, it has been sold to ten foreign countries and has sold close to 200,000 copies.

The 1995 publication of Sleepers, which was a #1 New York Times bestseller in both hardcover and paperback, catapulted Carcaterra to national attention. Sold to 35 foreign countries and now in its 30th printing in the United States, the book has sales exceeding 1.4 million copies. In 1996, Sleepers was made into a feature film starring Brad Pitt, Robert DeNiro, Dustin Hoffman, Kevin Bacon, Minnie Driver, and Jason Patric. Carcaterra served as co-producer on the project, which was directed by Academy Award winner Barry Levinson. To date, the movie has earned in excess of $625 million worldwide in combined box-office, video, DVD, and TV sales.

Carcaterra made a smooth transition into writing fiction with his first novel, Apaches, a New York Times bestseller in both hardcover and paperback. Published in a dozen foreign countries, the book has sold more than 450,000 copies and been optioned by producer Jerry Bruckheimer, with Carcaterra slated to serve as an Associate Producer on the project.

He followed that book with Gangster, which was published in hardcover in 2001. The book has sold over 400,000 copies since its 2002 release as Ballantine Books Mass Market Paperback and was a bestseller in the UK. The novel has been optioned by producer Joe Roth and Revolution Studios and been sold to a dozen foreign countries.
Carcaterra then wrote Street Boys, a World War II saga inspired by an incident which occurred in Naples, Italy, in the early fall of 1943. Warner Bros. and Bel-Air Entertainment bought the rights to the story in March 2001, before it was written, and are developing the project for director Barry Levinson. Carcaterra wrote the screenplay and will be an executive producer on the movie. The paperback of the book was released in July, 2003 and has sold 200,000 paperbacks and sold to eight foreign countries.

In 2004, Carcaterra published PARADISE CITY, a novel featuring a hard-charging Italian detective who returns to his Bronx birthplace and continues his war against the Camorra, the Neapolitan Mafia, this time for very personal reasons. The paperback was published in the spring of 2005 and has thus far sold over 75,000 copies. It has been translated in six foreign languages.

In 2006, Carcaterra published CHASERS, a sequel to APACHES. The paperback was published in 2007 and movie rights to the book have been retained by producer Jerry Bruckheimer. To date, the book has sold a combined 75,000 copies.

In 2010, Carcaterra published the art history thriller MIDNIGHT ANGELS (the paperback was published in 2011). To date, the novel has sold a combined 60,000 copies and been published in 5 countries.

THE WOLF was the first in a series of mob vs. terrorists thrillers. Movie rights to the novel have been purchased by producer Lorenzo Di Bonaventura.

Carcaterra's novel is TIN BADGES, a story about the retired detectives brought in to solve cases that are beyond the reach of the everyday force. The novel has been optioned for development as a weekly TV series by producer Michael Robin ("Rizzoli & Isles," "Longmire") and Warner Bros. Television.

His latest novel, PAYBACK, the second Tank Rizzo book, centers around the former NYPD detective taking on a corrupt cop and a dirty accounting firm in this adrenaline-laced thriller.

Carcaterra's short stories have appeared in three mystery anthologies thus far: "A Thousand Miles From Nowhere" for dangerous women (2005); "Yellow Mama's Lost Weekend" for murder at the race track (2006) and the upcoming "Missing the Midnight Bus" for dead man's hand (2007). He has also written "The Girl in the Park," (The Strand Magazine, Spring, 2007), and "The Strega's Last Dance" (Dark Matter, Fall, 2008). In October of this year, "Missing the Morning Bus" will be included in the anthology, The Greatest Noir Stories of the Century, edited by James Ellroy and Otto Penzler.

Carcaterra has written introductions to three Modern Library Classics: the count of monte cristo and The knights of maison-rouge (by his favorite author, Alexandre Dumas) and for Jack London's the star rover. Chasers, a sequel to Apaches, was published in both hardcover (2007) and paperback by Ballantine Books in 2008. It is also available in the UK and has combined to sell over 50,000 copies.

In addition to his books, Carcaterra has written a number of feature scripts and teleplays. Among his features are "Dreamer," the story of singer Bobby Darin, for Warner Bros. and director Barry Levinson; "Doubt," a thriller for Robert Lawrence and Touchstone/Disney, and "Street Boys" for producers Steve Reuther and Paula Weinstein and director Barry Levinson. He also adapted his novel, "Gangster," as a feature for producer/director Joe Roth in 2005. He has just completed work on THE GHOST, a script written for Touchstone Television and producer David Hoberman. Carcaterra's television writing credits include "The Hall," a pilot for Fox-TV (co-written with Jacqueline Zambrano); "Rounders," an NBC pilot, and "The Force" for the WB network, which Carcaterra executive-produced and filmed in Toronto in the winter of 1999. In 2003-2004, he worked as a writer and producer for the NBC series, "Law & Order." Carcaterra wrote THE GHOST for Touchstone TV and producer David Hoberman in 2009 and in 2010 he wrote "Night & Day," a pilot for Lifetime.

Carcaterra has also completed writing his first video game, alone in the dark: near death investigation, for Atari/Eden which was released in the Fall of 2008.

He contributes to The National Geographic Traveler and Maxim Magazine.

He lives in New York with his Olde English Bulldog Gus and has two grown children.